Sat, 2023-05-06
13:00 Glattwiesenstrasse 86, Schulhaus Luchswiesen, kleiner Singsaal Trakt A 8051 Zürich

Chorwochenende mit Dessi

Samstag: 13:00 Uhr - etwa 19.00 Uhr
Sonntag: 10.00 Uhr - etwa 16.30 Uhr

Sun, 2023-05-07
10:00 Glattwiesenstrasse 86, Schulhaus Luchswiesen, kleiner Singsaal Trakt A 8051 Zürich

Chorwochenende mit Dessi

Samstag: 13:00 Uhr - etwa 19.00 Uhr
Sonntag: 10.00 Uhr - etwa 16.30 Uhr
Kalender als CSV-Datei herunterladen
Weitere Informationen
Warum kann ich meinen Kalender als CSV herunterladen?
Eine CSV-Datei kannst Du in einem Tabellen-Kalkulationsprogramm (z. B. Excel oder Numbers) öffnen. Dies ermöglicht Dir, die bei uns eingefügten Termine auch anderweitig zu verwenden.
Mit ein bißchen Übung lassen sich Tabellen auch schön stylen. So könntest Du z. B. bei Deinen Konzerten eine gedruckte Version Deines Terminkalenders auslegen.
Kirchgemeindehaus Thalwil, Alte Landstrasse 93A, 8800 Thalwil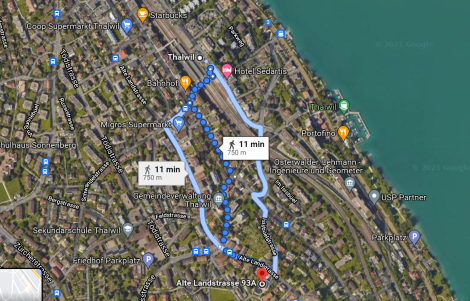 By train/bus: take the train from Zürich HB in direction to Lucern, get off in Thalwil, walk up the stairs and go right to the village/busses. Take the bus 142 (Böni) and get out at the second station (Platte), walk back 50 m (the same street downwards). Take the small path between parish house and big building (KGH), the entrance is a bit away from the street.
If you can't find it, please call Karen at 079 554 31 02.
For the drivers: highway to Chur, take exit Rüschlikon/Thalwil. There are parking spaces at the Dorfstrasse.
Hardturmstrasse 68, Zürich